I start working remotely for the Connected Learning Lab tomorrow and while a lot of people are excited for me, most of them don't actually understand what I'm going to be doing. So I'm writing a blog series that I hope will explain that somewhat, and this is the first post. If you've read my comps chapter on Connected Learning or seen my Connected Learning and the IndieWeb talk, some of this will be familiar.
Connected learning can be conceived of in three ways: as a type of learning experience that occurs spontaneously, as an empirically-derived framework for describing that type of experience, and as a research and design agenda aimed at expanding access to that type of learning experience. My brother-in-law, P., is actually a phenomenal example of a Connected Learner.
In high school and college, P. was interested in playing guitar. He started hanging out at a local guitar shop, connecting with a community there of peers and mentors. Through the connections he made, he was offered the opportunity to be lead guitarist for a tribute band, and that job took him all over the world. He has since embarked on a different but related career, working in media law. This area of law might not have been of interest to him if he hadn't had experience working in the music industry.
That's an example of a spontaneously occurring connected learning experience. From experiences like this, scholars have created a model to describe connected learning. This model includes three elements of connected learning: interests, relationships, and opportunities. P. was interested in music, built relationships at the guitar shop, and it led him to opportunities to perform as part of a working band and become a lawyer.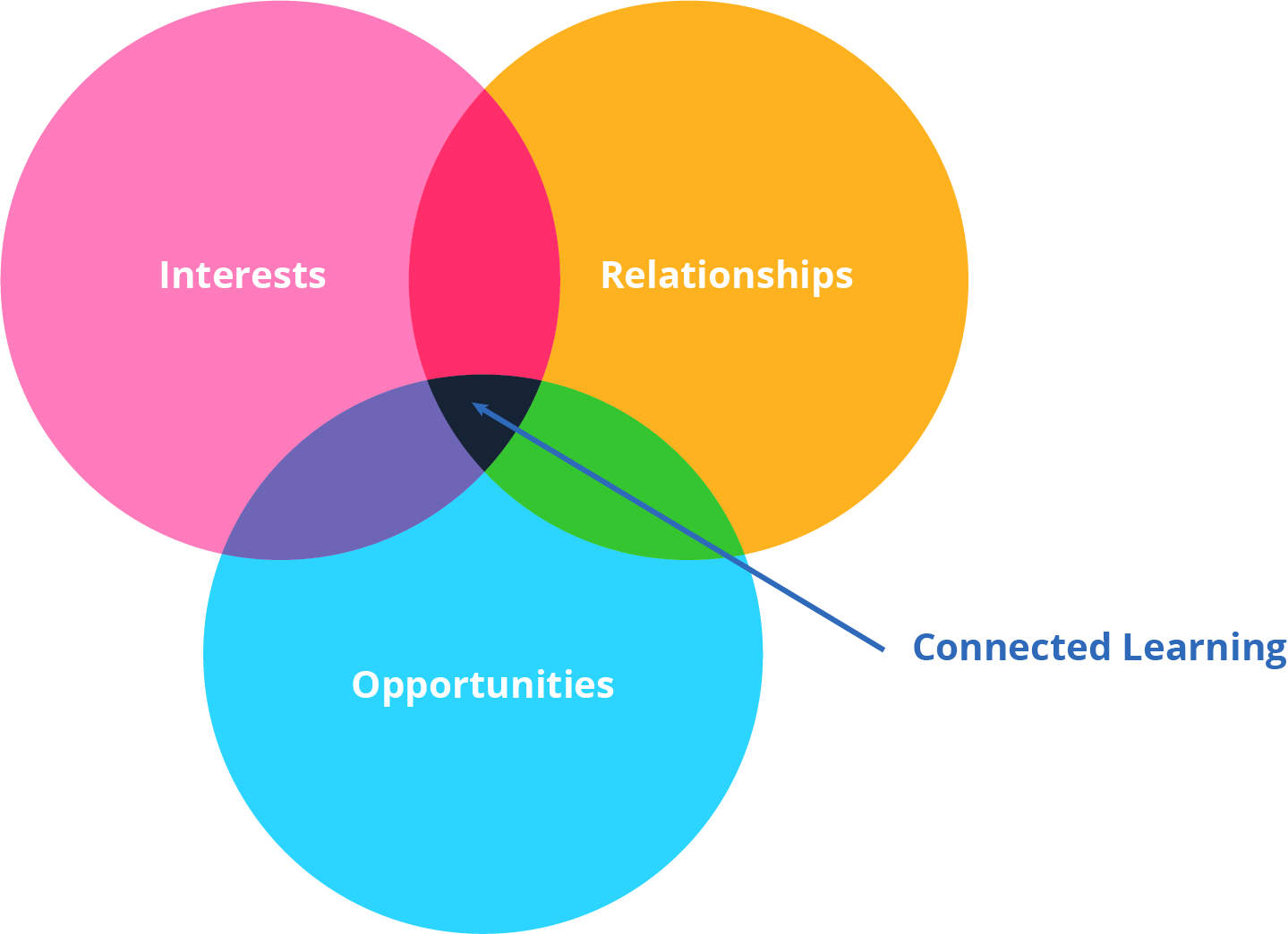 Image Source: The Connected Learning Alliance
This type of experience is easier to access with more financial and temporal support; the research and design agenda surrounding connected learning is an equity agenda that aims to broaden the availability of this kind of experience, making it possible for nondominant youth who might require additional support to access connected learning. One way to do that is to bring this kind of experience into public spaces serving nondominant youth - public spaces like libraries.
The work I'm doing with the Connected Learning Lab is part of a grant funded by the Institute of Museum and Library Services examining key needs for teen services in libraries:
(1) the challenges library staff face in designing and implementing CL programming for underserved teens and the means for overcoming these challenges, (2) ways library staff can use evaluative approaches to understand youth needs in CL programming, and (3) the means of demonstrating the value of CL programs and building stakeholder support for increasing their scope and scale, particularly to serve equity goals.
The products of this research will include
training modules, guidebooks, mentoring supports, case studies, videos, practice briefs, topical papers, and blogs.
These are some of my favorite kinds of things to create, so I'm extra excited.
My next post in this series will talk about how Connected Learning is already happening in libraries, with some examples from actual libraries.