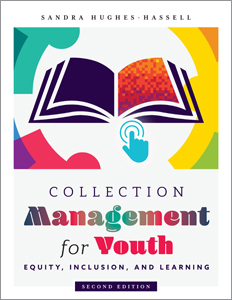 Collection Management for Youth: Equity, Inclusion, and Learning by Sandra Hughes-Hassell
Here's the publisher's summary of this book:
With a renewed emphasis on facilitating learning, supporting multiple literacies, and advancing equity and inclusion, the thoroughly updated and revised second edition of this trusted text provides models and tools that will enable library staff who serve youth to create and maintain collections that provide equitable access to all youth. And as Hughes-Hassell demonstrates, the only way to do this is for collection managers to be learner-centered, confidently acting as information guides, change agents, and leaders.
Roles held by the manager of a learner-centered collection:
change agent
leader
learner
resource guide
Goals of the learner-centered collection manager:
Ground collection development decisions and practices in an equity framework.
Adopt a learner-centered model of collection management that guides collection decisions and demonstrates accountability in the learning process.
Redefine the role of collection manager to support the concert of library staff serving as a teacher and information guide who actively centers equity in their collection development practices.
Apply appropriate strategies and tools for working in the learner-centered, equity-based paradigm that demonstrates knowledge of the learner, recognition of equity issues, familiarity with educational theories, awareness of resources, and attentiveness to the uniqueness of the community the library serves.
Form a community of practice that shares responsibility for defining, developing, and evaluating the development and delivery of library resources to facilitate youth learning and advance equity.
The equity framework:
learner-centered
library staff as teacher
library staff as information guide
educational theories
unique community
community of practice
An equitable access environment reflects:
learner characteristics
best practices in pedagogy
changes in resource knowledge base
partnerships with the broader learning community
commitment to equitable access